Tyresta is a national park located just outside Stockholm. Here you can walk among old-growth forests and small lakes where Årsjön is perhaps the nicest of them all. There are plenty of hiking trails in the national park, but it is also possible to leave the trails if you want to feel more surrounded by the forest and the sounds of nature.
Watch the video if you want to see more from Tyresta and Årsjön.
This tour started at the main entrance in Tyresta village. Here is a large car park and an exhibition presenting all national parks in Sweden. The hike to Årsjön is about 3 km long and easy to hike. When you start approaching Årsjön, the path becomes narrower and there are not quite as many other visitors in the area anymore.
Årsjön is a beautiful long narrow lake nicely framed by the forest. Here you can only camp in a designated place, which means that you will have to share it with other visitors, but there is no major concern since the tenting allowed area is large. As it is not allowed to camp in other places around the lake, the lake retains its wilderness character. On the opposite side of the tent site there is a lookout point where you get a nice view of the lake and is worth a visit.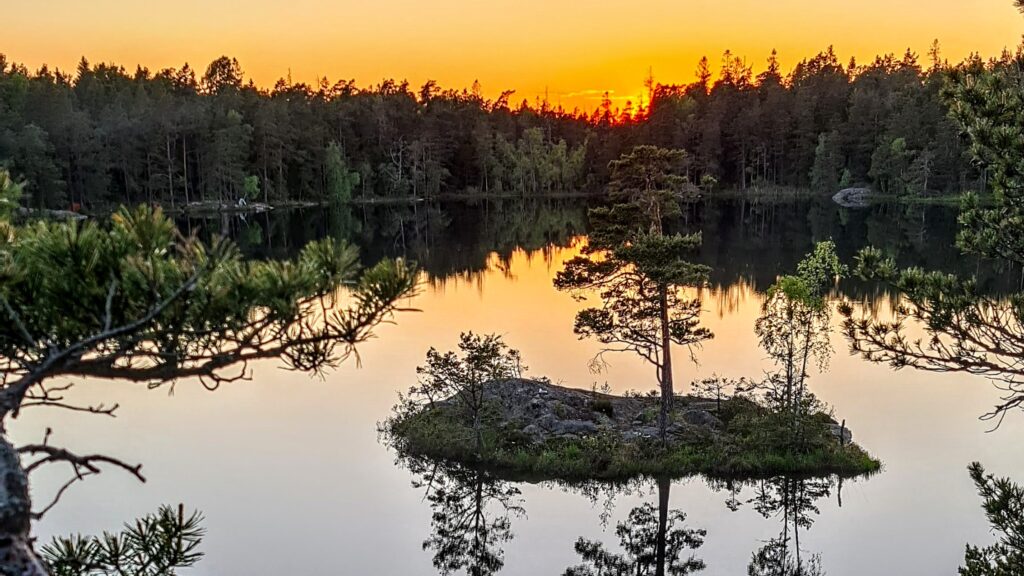 The rest of the evening is easily spent sitting by the rocks and looking out over the lake or around the campfire. Årsjön is probably one of the finest lakes in Tyresta National Park and well worth a visit but there is much more to explore here as well.