The largest city in Scandinavia may not be associated with wilderness experience but Stockholm does have a lot to offer when it comes to nature experience. As an example, the Stockholm archipelago consists of around 24000 islands. This makes the Stockholm archipelago a paradise for kayaking.
Too much to read? Watch the video instead.
I have spent a lot of time in the archipelago. We have a summer house there so more or less every summer for 35 years. But i have never tried a kayak before and have explored just a fraction of the archipelago. Finally i took the time to go on a 4 day kayaking tour and see what more the archipelago has to offer.
With me on the trip is my friend Elias. He is the type who typically avoid sleeping in tent but he has former kayaking experience. So on the trip there is two beginners. One beginner on the kayak and one beginner camper.
We started this trip on Dalarö were we hired our kayaks. Dalarö is a good starting point since it is easy to access by car but still gets you out in the outer archipelago fast. After a quick demonstration how things work its just to hop in and start the trip. As a beginner i was surprised how quickly i felt comfortable in the kayak. It felt stable and very comfortable.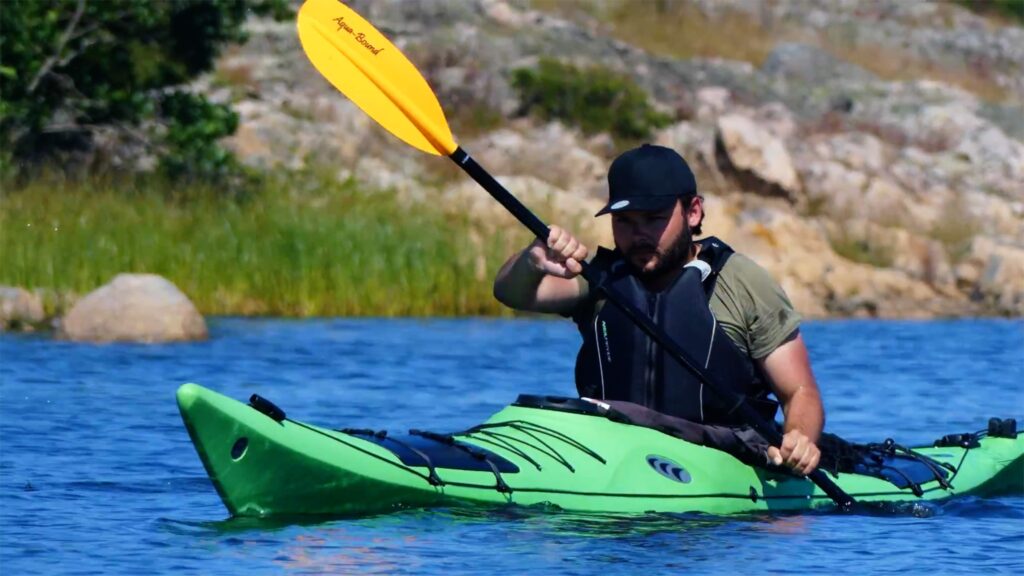 Our plan was to get as far out in the archipelago as we could the first day. During the whole trip we were lucky with the weather and especially the wind. We were doing some larger crossings or at least larger in the context that it was my first day in a kayak. If it would have been windy some of this crossings could have given us problems.
This trip was made in late July and this means that most swedes are on holiday and the archipelago is a popular holiday destination. Even though there are lots of boats out there it's no problems finding your own little island to set up camp on. This is extra easy when using the kayak since there is so many small coves and likes that normal boats can't go in while the kayak just gently passes through.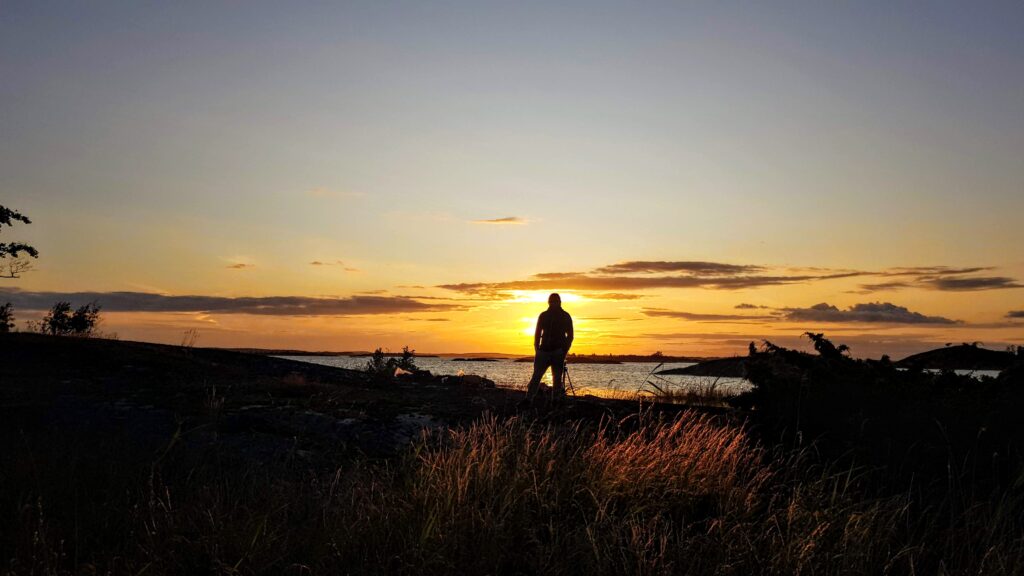 First night we ended up at an island called Finnskär, or perhaps Byttan, depending which map one uses. We were quite tired and didn't stay up all to late. If one would head straight east, towards the open sea, you would reach one of Stockholm archipelagos largest seal colony. At this time of year it is forbidden to approach this colony but after 15th of August one can paddle out and greet the seals. They are quite curious and come up next to the canoes.
The morning after we woke up to a new day with perfect weather condition. Sunny and almost no wind at all, but this would become even better. We aimed towards Bullerö which became our final destination this day. This also meant we had the wind in our back the entire day which made the paddling very easy. We didn't find any good information were we could fill up our water but aimed for Långvikskär which would be a good candidate. We did find a well we could use but later realized that we could have waited until we reached Bullerö.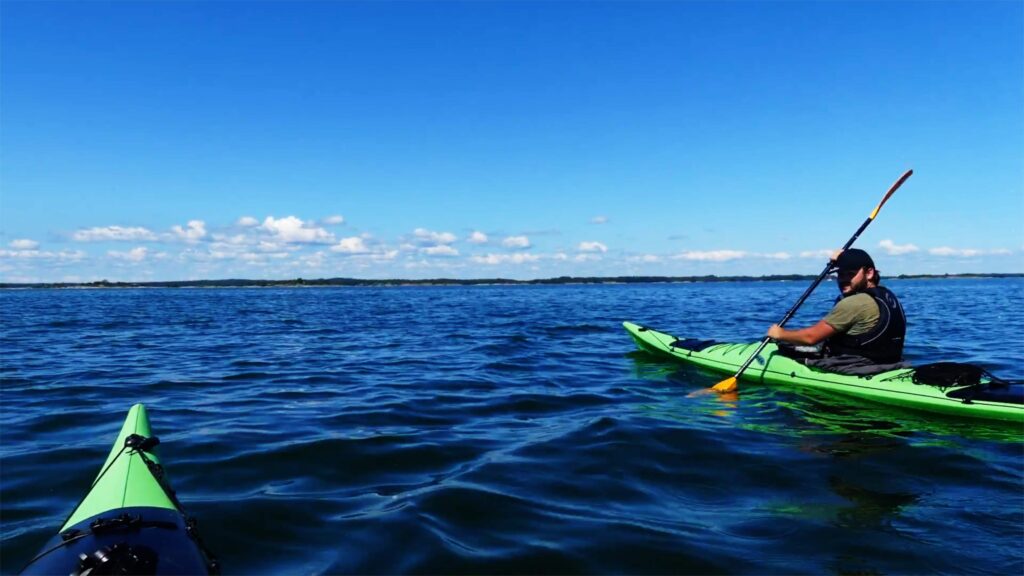 Bullerö is part of a nature reserve, which a large part of the archipelago is. There is some facilities like a cabin, water and outhouses. And there was a sauna which is open for everyone to use. This made us set up camp here, even if it violated the original plan to avoid other people. There is a designated area for setting up tents and you are encourage to stay there. Didn't quite understand the rules but think you still were allowed to put up the tent anywhere you want on the island under the freedom to roam.
The evening was spent in the sauna and swimming in the ocean and later around the campfire with some of the other campers that we met.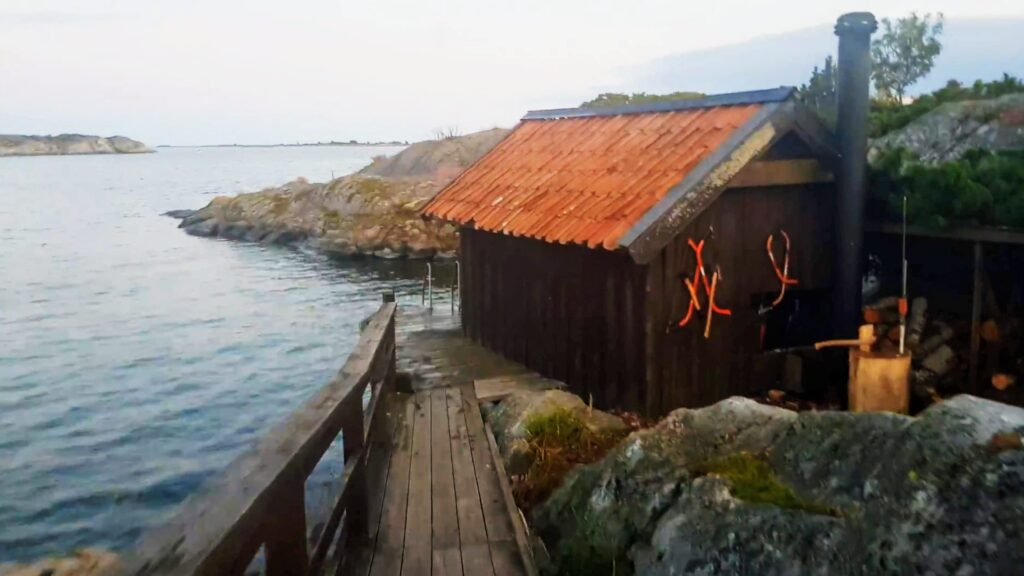 The next day we once again woke up to perfect weather. This was our last whole day and it was time to start heading back towards mainland. This became one of the nicest paddling days where we had both large crossings in perfect conditions and parts with lots of small islands. We ended up on a small island just next to Mörtö Bunsö. We put camp up a bit in the woods but spent the night out on the rocks watching the sunset.
Next day started as previous days. Nice weather, breakfast, coffe and a swim. Only 10 km between the end of our kayak adventure and normal life back on mainland. I was surprised how much i have enjoyed kayaking. I thought that it might be a bit boring at times but i enjoyed every second of it.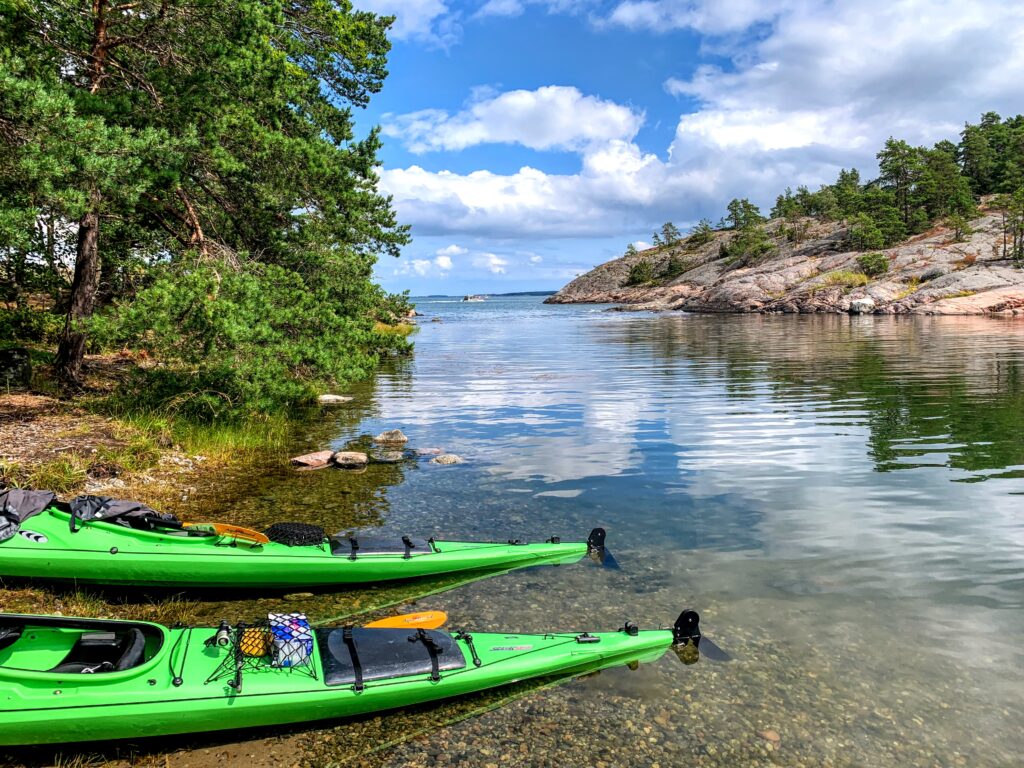 Some lessons learned until next kayak adventure. First is the timing. Even though July is our warmest month i think that this trip may be best suited for late August. At least if you want to be on your own. There are many boats out in the archipelago but as soon as school and work start, the archipelago drains from people. Also, the nights are once again dark which can offer some amazing night skies.

Be aware of the sun and wear sunscreen otherwise it can be a painful trip. Try to organize your gear in small water tight and transparent bags which makes packing the kayak much easier.
Last, you are best out with a self supporting tent since there is a big chance you will camp straight in the rocks. And because of that, a comfortable sleeping mattress is also recommended.